Selected December 2004 Newsletter Articles
From The President
A BIG thanks to Dick Rush, Dennis Hansford and Walter Cunningham for the outstanding job as the nominating committee and setting up the elections. The result is I decided to hold elections at the November meeting, as the December meeting is primarily a social gathering. The election results and winners can be found elsewhere in this newsletter.
I would also like to remind all members it is never too early to renew your membership. Vernon would be happy to accept any dues for next year at any of the remaining two meetings. If you can't make it to a meeting, you can send your dues payment ($4.00) to either Vernon or myself. If you need addresses, please me at call 310-393-5597.
Hagerpex XXX & XXXI
I received some good news on this subject since the October issue. Gary Bishop will be able to help out and take care of the contracts again this year. He has asked however, to have the club help out with the show announcement post cards. So, at the January meeting the members will affix mailing labels and stamps to the cards.
To also help relieve Gary with the show burden, I have appointed Larry Hopp as show chairman (after volunteering). He will oversee the operations necessary for a successful show. For the record we still need someone to be responsible for the registration desk, etc. Dave Thompson still will take care of Publicity.
Our next show will be on Saturday, February 12, 2005 at the Plaza Hotel on Underpass Way. We were unable to secure Presidents weekend as we normally do. That is the importance of an active show committee, so shows can be booked well in advance to insure the dates we require.
Elections
Here is the result of the elections of officers held at the November meeting. Congratulations to our 2005 Officers and Board of Directors. Larry Bollinger for President, Dennis Hansford for Vice President, V. Downey for Treasurer, and Charles Cronauer for Secretary. In addition, the members also voted for a Board of Directors: Walter Cunningham-Chairman (he received the most votes for director), Wayd Dunkle, and Gene Harris. There were fifteen members voting. See Larry Bollinger for details.
Christmas Party ~ 2004
By now you should have received a post card invitation for the club Christmas party at Ryan's Restaurant. The fun starts at 6:00 pm on Tuesday, December 14th. This is our normal club meeting night.
We will again meet in one of the rooms in the rear, same as last year. All paid up members are invited, as well as spouses. Come join us for good food, a good time and some stamp related door prizes & fun.
Stamp Club Poster
Dorsey Martin has started some work on a poster for the club. If you have any ideas you can share in the design, please contact either Dorsey or Larry Bollinger. The poster design should be kept simple but attract attention. If we get a few designs we can have the club vote on the one to use.
Newsletter Articles
We still haven't received any article submissions for the newsletter. Just a paragraph or two will work. I promise not to assign the task of newsletter editor to you. I am sure someone has an interesting story about their stamps or collections they can share. Rough drafts are fine.
The more each member gets involved, the more prospective members want to be a part of it. I know we are all busy one way or another, but I also feel each of us has a few moments to share with our friends who would be happy to share in your knowledge.
Privacy Statement
I haven't gotten any input on this issue yet. I feel this is such an important issue so I will work on it when time permits. Any help will be greatly appreciated.
Stamp Club Meetings
Meetings are held the second Tuesday of each month (except August) at 7:30 p.m. in the St. John's Lutheran Church Educational Building, located at 141 South Potomac Street, Hagerstown, MD 21740, across from the Hagerstown Free Library. Next meetings are December 14, 2004 and January 11, 2005.
Featured ~ Mystery ~ Stamp
Rowland Van Cleef submitted this item. I have another ready to go from Dorsey Martin, but I would like to get additional stamps for the future. If you have any thoughts about this item let me know. ssc2001@quixnet.net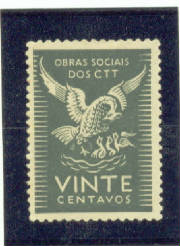 Can You Identify This Item?
Note: Some of the above text differs from the published newsletter. Due to editing constraints and space, not all the material I would like in the print form can be added.